Running Tracks

We're proud that the world's greatest athletes train and compete on our track systems. Time-tested performance and durability make our premier product a natural for international training and competition.
What do we offer? 1) High performance 2) Durability 3) Cushioning 4) Cost-efficiency
Our popular – and economical -- track systems combine performance and shock absorbency with a long life span. Perfect for entry-level, our brand of latex systems meet your performance and budgetary requirements. If your existing track simply needs a new surface, we have the knowledge and the products to add years of life to it.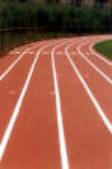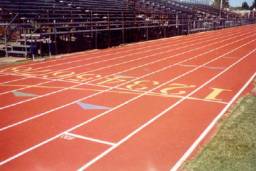 Olympic Venture offers outdoor sports surfaces for athletic tracks, playgrounds, tennis courts and multipurpose use. Our top class athletic systems are international standard certified. Our range of products include